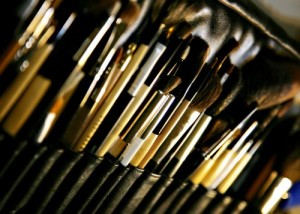 Everytime I think of Dolphy (God bless his soul), I think of my lost brushes. It will be 5 years now since this set was nicked from my makeup bag while I was working the Dolphy special for his 80th birthday.
I lost about 75 of them – a set of Bobbi Brown, Nars, MUFE, Trish McEvoy, Shu Uemura and some other special brushes. I cried for what felt like ages mourning the loss of the tools for my livelihood. It isn't as easy to replace brushes even if one had the money to buy them pronto because as any artist would know, tools like brushes take getting used to.
The stress of losing a whole set was quadrupled when the following day at a wedding for 7 people, I had nothing to use except a few pieces (plus my hands a couple of sponges). It was a nightmare getting through that gig since I didn't know they were lost until I was about to start on the first face. I learned a major lesson learned that day.
Anyway, I have moved on since then and have managed to find spanking replacements for each of the lost brushes and Ive taken very good care of them.
I still think about the old set especially when I remember Dolphy and this photo is the only proof that I once owned them.
Share and Enjoy